This weeks #52ancestors prompt is at the courthouse.
I'll have to take a break from colonial New England and New France to celebrate black history month. It was in the Westmoreland county courthouse in Greensburg, Pennsylvania where I discovered my black heritage.
The courthouse in Greensburg, Pennsylvania houses the birth records for the county from 1893 to 1905. My great grandmother Margaret Ann Peters Joseph, was born in 1901. My first trip to the courthouse was way back in the early 1990s and my intention was to find her birth record.
This is a picture of Sarah Jane Adams Peters, her husband and her family, taken C1904
My great great grandmother Margaret is the cutie standing in front of her mother....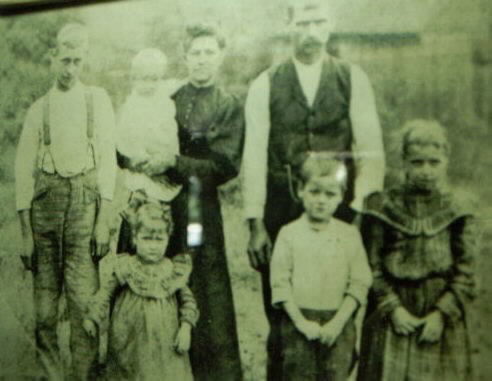 The birth records at the court house are in three large books hand written in order of births. I found Margaret Ann Peters, my great grandmother fairly quickly. Each line has the date of birth, name, race and parents names.
Margaret Ann Peters August 16, 1902, White, Solomon and Sarah Jane Peters
I decided to review the births to capture her siblings. My grandfather told me his grandma, Sara Jane Adams Peters has at least 13 children, two sets of twins and a set of triplets, so I expected to see a lot of baby Peters.
As I went through the list, I discovered something I didn't expect.
James Peters, September 20 1900, black, Solomon and Sarah Jane Peters…
James was clearly the brother of my great grandma, several other siblings of hers where also as listed as black, just as many of them were listed as white.
I had never heard this before, I was frankly a little stunned. Why didn't I know this!?
I next pulled the death records books, they were set up similarly to the birth books.
James Peters, colored male, age 1 year and 12 days, son of SJ and Sarah Peters
Mrs. Sarah Adams, April 14 1902, colored wife of Benjamin.
Benjamin Adam & Sarah Adams, were the parents of Sarah Jane Adams Peters, my 2x great grandmother.
I thought right away that this must be Sarah's mother, and must explain the races of her grandchildren.
As in most genealogical stories, I found out that it wasn't quite the whole story.
I pulled census records for the Adams family.
In 1850 the census taker did not document race for anyone on the page.
In 1860 the census taker again stays silent on race for the entire page!!!
In 1870 a more detail oriented census taker, is on the job. He lists Benjamin Adams, his wife Sarah and and his 8 children as M for Mulato.
in 1880, the entire family is again listed as Mulato.
In 1900 Sarah Adams, my 3x great grandmother is now windowed and living with her sons they are listed as white.
Sarah my 2x great grandmother is married and living with her husband a they are all listed as white, even the ones who a few short years earlier were listed as colored or black in their birth records.
Sarah's mother Sarah has always been a great mystery. It took me years to discover her last name, which was finally documented on one of her children's death certificates.
Sarah Kanose Adams, born May 1842- died 14 April 1902 she was the second wife of Benjamin Adams. They were married in 1866. I have hypothesis that her father may have been George Kanose but have no solid proof.
Benjamin Adams, Sarah Kanose's husband, on the other hand had documented parents, and hold on to your seats while we take their census journey. Benjamin Adams was the son of Benjamin 1792-1870 and Barbara Adams 1792-?
1860 Benjamin listed as Mulato Barbara as white
1850 The lazy census taker is at it again and leave the race blank…except for two individuals on the page, Benjamin and Sarah Adams, Black.
So at this point if your having a hard time keeping up…so was I!
Let's recap the Adams and Kanose lines...
My great grandmother Margaret Peters Jospeh 16 Aug 1901-5 Nov 1984
In this generation about half of Margarets sibling at some point are listed as colored but the majority of the time they are all listed as white.
My 2x great grandmother Sarah Adams Peters, 3 Nov 1871- 10 March 1958
Only once is Sarah listed as mulato in the documentation. All others state she is white. Her siblings have varied documentation as well as their children.
My 3x great grandmother Sarah Kanose Peters May 1842- 14 April 1902
listed as mulato twice in census and as colored in her death record, also noted as white in several documents.
The Kanose line ends here…FOR NOW
My 3x great grandfather Benjamin Adams 1820-30 Aug 1899
listed as mulato is two documents. in one of his children death certificates states he is born in Germany!! This is completely false as it is clearly documented he was born in Pennsylvania.
My 4x great grandparents Benjamin and Barbara Adams
listed as both mulato and black in the few documents I have for them.
This has perplexed me for years and I have gotten very few answers.
I need to make a disclaimer that I currently live in the same town in Westmoreland County, Pennsylvania as my ancestors the Adams, also lived. We are a VERY WHITE place. Something my Colombian husband reminds me of frequently. That being said, we were even whiter in the 1800's. Benjamin owned land here. Land his children had to sell after he died. I want to understand where they came from, how they accomplished what they did, understand the world they navigated.
I really want to know more about the Adam's. I desperately want to break though this brick wall that has stood for many years. Where they African, native American…knowing next to nothing is the worst!
I did have a bite of a break thought recently. Last year, I convinced my parents to do the ancestry DNA. My mothers results gave a good kick to one of those bricks in the wall. My mom Linda Joseph McConnell, the granddaughter, of Margaret Peters Joseph, was 1% Benin/Togo, West African.
Although, it confirmed our African descent, it left more questions. I will continue to chip away at this wall and someday tell your story.