Here we are in 2019, the first blog of the year. #52ancestors first prompt is appropriately "First".
I was a huge Cheers fan back in high school. When I learned the story of my 8x great grandfather, Pedro Da Silva, I could just imagine Cliff Clavin, sitting at the bar telling Norm and Carla all about him. I imagine he would be Cliff's hero, and I am sure Cliff would tell his story. Pedro, you see, was the first postman in Canada.
Pedro was born in Portugal in 1647. We are not sure of the exact circumstances that brought him to New France, but we know that we arrive in the early 1670's. It is thought he arrived with an expedition of Portuguese explorers.
By 1677, Pedro married the young Canadian born Jeanne Greslon. She was 15, he was 30. The raised at least 10 children, some sources say up to 14. The family lived in Beauport, Quebec where he worked as a messenger. He moved the family to the lower town of Quebec and started working with freight. He quickly built a reputation for reliability, through all season, especially in harsh winters, harsh Canadian winters!
There is documentation that in July 1693, Pedro received 20 Sol, to take a package of letters from Montreal to Quebec City. On December 23, 1705 he received a commission from Jacques Raudot, giving him the title "first courier." He quickly became the official carrier of mail for the governor general of New France, between Quebec City, Trois-Rivière, and Montreal. He often traveled up and down the river in his canoe. Not sure Cliff could have hacked it.
On June 6, 2003, at a gala dinner, the Canada Post unveiled a commemorative 48¢ stamp in honor of Pedro. The issue date coincides with the 50th anniversary of the arrival of the ship Saturnia in Halifax, marking the beginning of officially-sponsored Portuguese immigration to Canada. The Canada Post and the Portuguese Canadian community found this perfect way to commemorate a son of Portugal and highlight the accomplishments of the Portuguese community to the development of Canada.
The stamp was created by Clermont Malenfant, it shows image of Québec City and a red seal used by the Sovereign Council of New France. It displays the King of France's coat-of-arms, symbolizing a new era of communication and the secrecy and privacy of the hand-written letter. It is embellished with excerpts from the official letter of commission signed by Jacques Raudot, along with da Silva's signature.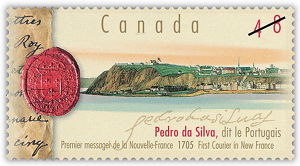 Pedro was sometimes known by his French name Pierre DaSylva.
I am proud to be a descendent of this First mailman of Canada.