Huntingdon's path

My great grandmother died when I was 10 years old. The memories I have of her are of a strong independent woman. She lived alone in a trailer, she was legally blind and had heart issues, but she was strong as an ox, until the end. The family always likes to say it was strong genes.

It took me many years to determine it, but because of her genes, my great grandmother had a 50/50 chance of getting a debilitating and horrible disease.

When I first started my genealogy journey, I was discovering all kind of interesting things. I expected all of my family to be as fascinated as I was, so I excitedly made phone calls to my parents, my grandparents and everyone to give them my news.

One day my grandmother called me. She sounded very serious and told me her and Pap wanted to talk to me, could I come over? I was extremely concerned. When I arrived they very anxiously explained that because I had been discovering so many things, they wanted to tell me before I found out on my own. They proceeded to tell me that my 2x great grandfather committed suicide. They were referring to Solomon Peters, grandfather of my Pap, who at the age of 52 shot himself.

The genealogist in me was fascinated and enthralled. I immediately realized my grandparents were not. They seemed afraid, embarrassed and ashamed, I could tell they had a hard time telling me. I had never before seen them like that. When I pressed for an explanation, the story I desperately wanted to hear, I didn't get much. There was silence and head hanging and shaking. Maybe it's the nurse in me, but something my pap had said stayed with me "he was always so sick."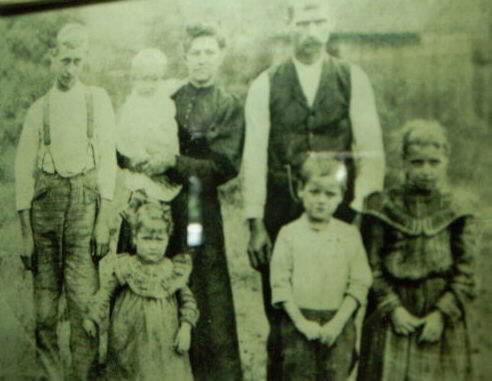 Solomon and Sarah Adams and their young family C. 1905
For many years after that Solomon was in my head, I wanted to understand why he left his wife with 8 children all under the age of 20. It was another Solomon who gave me my first clue. I discovered the death certificate for Solomon Jacob Peters, Jr. He died at age 46 in the state hospital, there in black and white spelled out as the cause of death, HUNTINGDONS CHOLERA, with mental illness as contributory factor.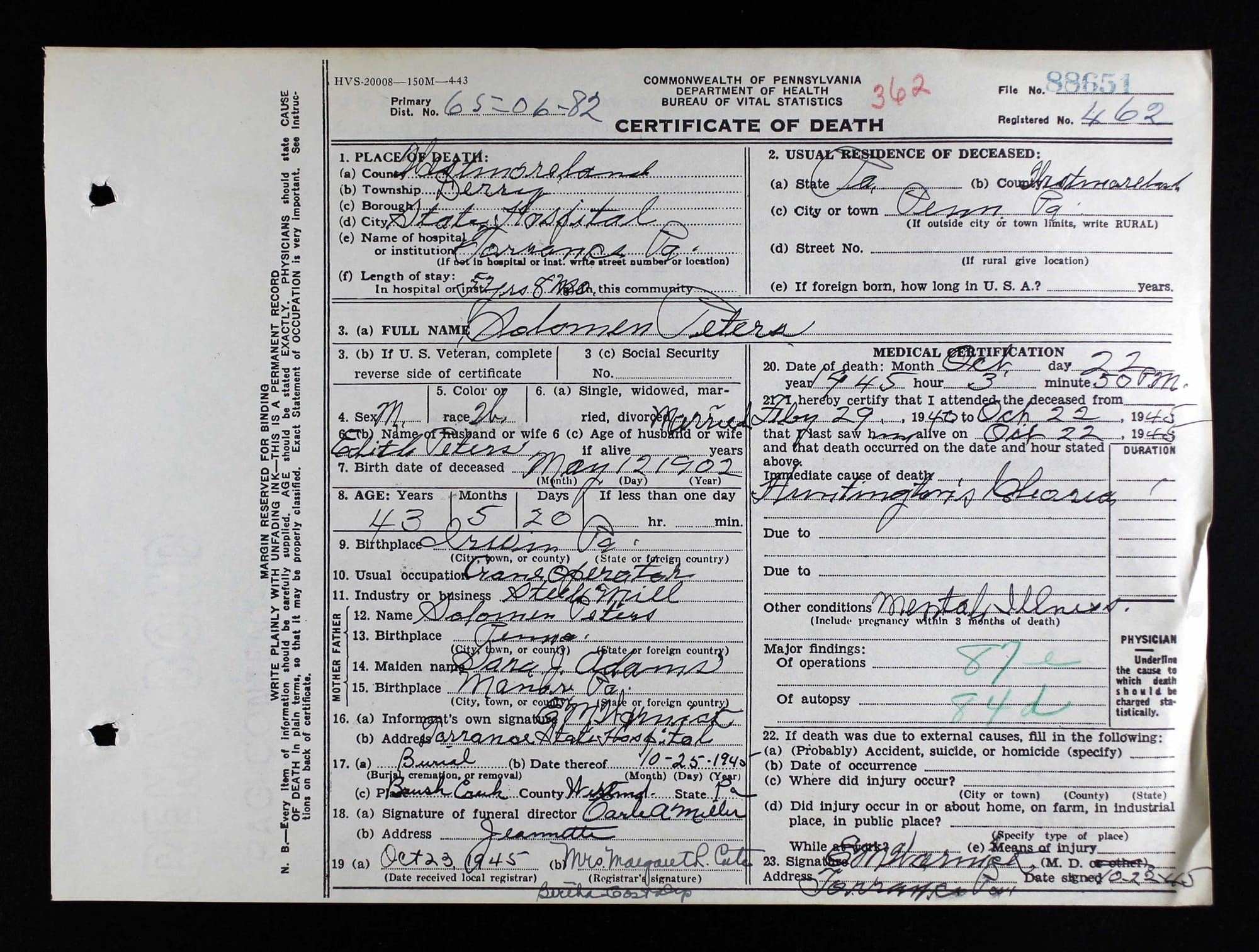 Suddenly there was a lot to think about… "he was always so sick" "he had trouble breathing"

As I nurse, I remembered Huntingdon's is a dominant genetic disorder the cause progressive breakdown of nerve cells. What I relearned when I looked into it, was that everyone who inherits the expanded Huntingdon's gene WILL develop the disease. A parent who has the disease has a 50% chance of passing the expanded gene to their offspring.

Suddenly my genealogy obsession and my nursing career coincided. My great great grandparents had 12 children. 4 of them died as children, and only 4 of them lived to be older than 65.

Benjamin the oldest was a solider in WW1, and died in a veteran's hospital in Canandaigua, New York, where he was sent when he began exhibiting symptoms of a debilitating disease. He was there for 2 years and two months before he passed away. His daughter Twyla died of Huntingdon's at the age of 30

Lydia Peters the second to the youngest died at the age of 49. Her diagnosis was Multiple Sclerosis. My grandfather told me that she lost the use of her arm after she was struck by lightning hanging clothes, when she was first married. Now with the knowledge of Huntingdon's, the lightning was probably not her issue, nor was it Multiple sclerosis.

It became clearer to me that Solomon was suffering from a horrible disease and may have chosen to end his life. I cannot imagine suffering from a disease like this, in the early 1900s, without any real knowledge what is happening to you. He most likely did not understand that he may have passed the disease to his children. That I can only imagine this was a mercy.

I turned my attention to Solomon's parents to see just were this began. I didn't get far. I have no death record of his father Daniel. All I know if he is dead before he turns 50, as he disappears from censuses after 1870. Solomon's mother lived until she was 76 and her siblings were quite robust. I felt that the Huntingdon's was a Peters trait.

My 4x Great grandparents Solomon and Mathilda had 11 children. Three of which I can make strong hypothesis, had Huntingdon's and passed it to their children. The cemented it as the Peters line.

Between Solomon and Mathilda, I still have not been able to determine who was the parent with the disease. Mathilda died young at the age of 46 although there does not seem to be any evidence that any of her siblings or their children suffered from Huntingdon's. Solomon's parentage has been a mystery.
He lived in Westmoreland County, PA and was born in Dec 1816. There are two men I believe could have been Solomon's father. Mathias Peters or Daniel Peters both born in the 1790s. All the evidence is circumstantial. For the first time in my genealogical studies, I am looking at causes of death to support the hypothesizes. Can this gene which causes such devastation to the human body help me to confirm the family line? Time will tell. I have begun reviewing all Peters death certificates in Westmoreland County, going back as far as I can.

It is my strong prayer that time will find a cure for this devastating and horrible disease that has affected so many of my ancestors and continues to affect thousands today.

See this link for more info on Huntingdon's disease
https://ghr.nlm.nih.gov/condition/huntington-disease
See the media section for Peters family members death certificates