The last two years have arguably been the most difficult in our lifetimes, at least if you are looking globally. In that time, each of us faced our own individual challenges, on top of a global pandemic.
On Christmas Day, I had the pleasure of spending some time with my centenarian grandfather, Samuel Joseph. He sat on the couch and sipped his eggnog, looking dapper as always.
My mind turned to the many years of his life. What comes to your mind when you think of the last 100 years? For most, we think of global events or big changes, cars, electricity, world wars, computers, among many other things.
But for genealogists we recognize the little things, the personal events. Each year holding its own challenges, for individuals and the world itself. Below are only two of such events of my Pap's young life.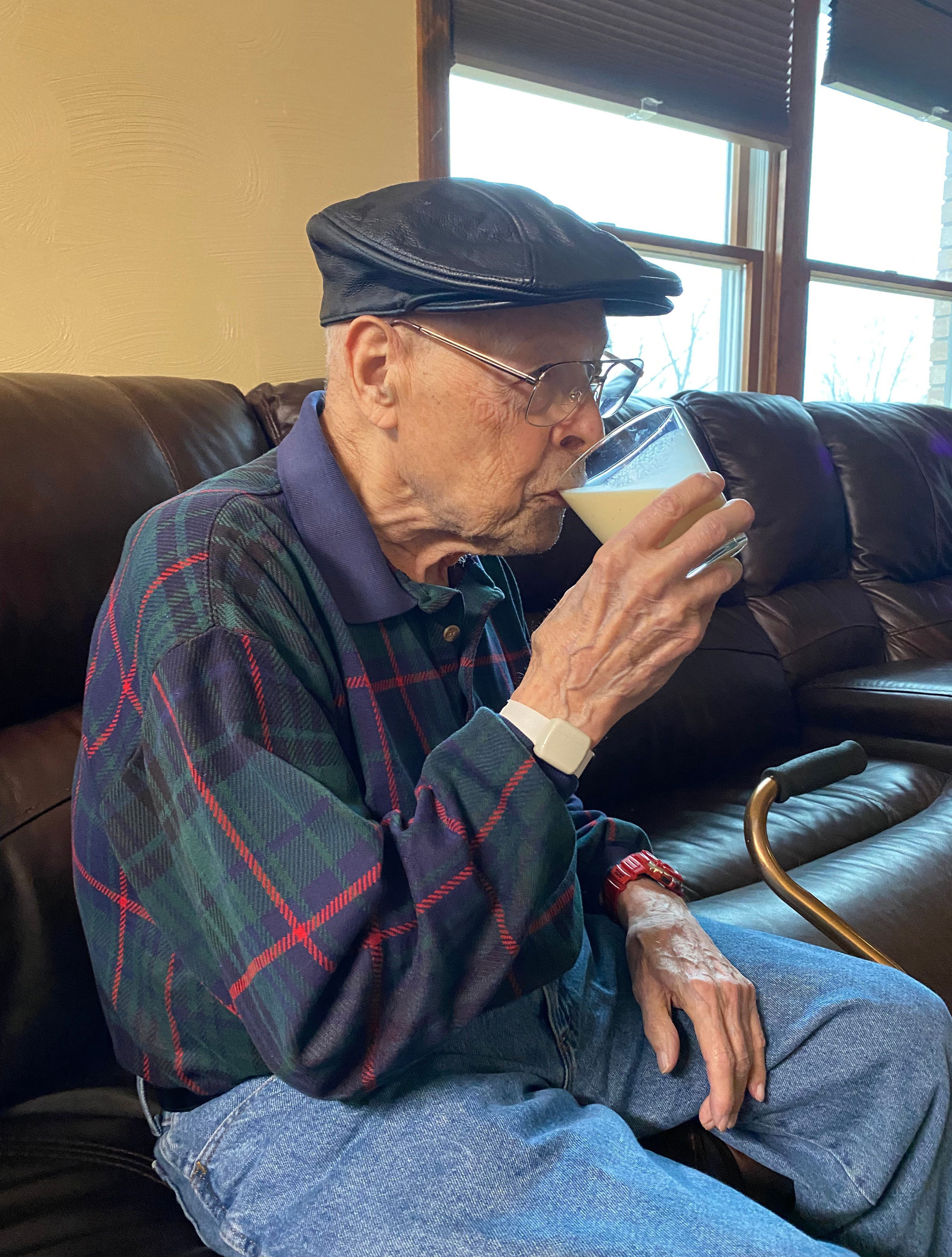 April 1926
Jeannette, Pennsylvania
Prohibition is in effect; Americans are happy to be at peace. Henry Ford announces the 40-hour work week. Model Ts are being manufactured. Harry Houdini and Rudolph Valentino die, while Greta Garbo and Al Capone rise to fame.
A 5-year-old Samuel is the oldest child in his growing family. He has two younger sisters Marian 4, and Margaret 2. In February, the family welcomed twin boys George and John. George died at the end of March. This is most likely the first death Sam experiences. His grandfather and young twin uncles died the year he was born, but he wouldn't have memories of it.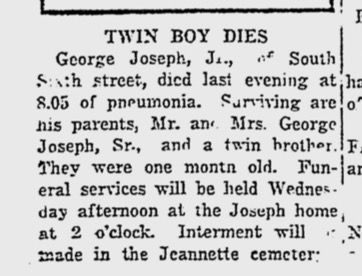 Like most funerals prior to World War 2 George's was held at the Joseph home. There would be no way to shield the young Joseph's from it. How was Margaret, Samuel's mother, coping? Still newly postpartum, burying one twin while caring for the other and his three siblings? Was there time to sit down and explain it. Perhaps this responsibility fell to Sam's father, George, or one of his grandmothers or his grandfather. Did the young siblings talk about it? Regardless, this single event most likely had a significant impact on Sam.
June 1941
Jeannette, Pennsylvania
The world is at war, but America is trying not to get involved. The German and Italian Consulates in the US are ordered closed, and their staff told to leave the country by July 10.
20-year-old Samuel Joseph is about to be married. He graduated from high school the year before, being the first in his immediate family to do so. His bride is 16-year-old Ruth Spore. The wedding was to be a celebration with a reception for the two large families. A joyful occasion, during an uncertain time.
The night before the wedding, however. Samuel's grandparents, Samuel and Rose Joseph, received devastating news. Their 35-year-old son, John, who had made his life in the military joining in 1929, was killed in a training mission aboard an army bomber plane.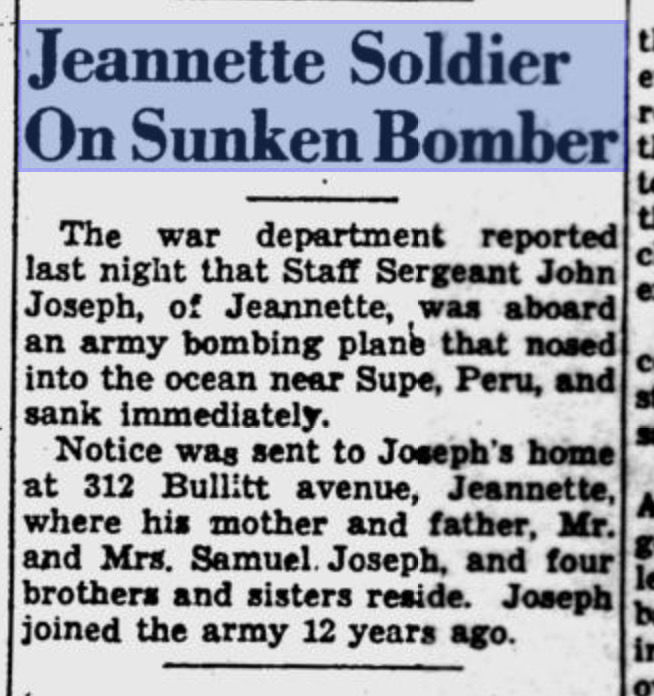 According to my grandfather he and his family consulted with the minister about how to handle the wedding. The minister recommended they continue with the wedding but cancel the reception. Instead, Hannah Spore, Ruth's mother, held a dinner, at her home, for the newlyweds and their families. Three generations shared a meal that night, pondering the future. Despite the happiness, uncertainly and sadness were most likely there. John's death alone would be sad, but the circumstances of it had greater meaning. He was training in the new bomber planes. Planes that may soon to be used in war, another war. Many of the wedding guests had already lived through the great war and those that hadn't may be sent to fight this one.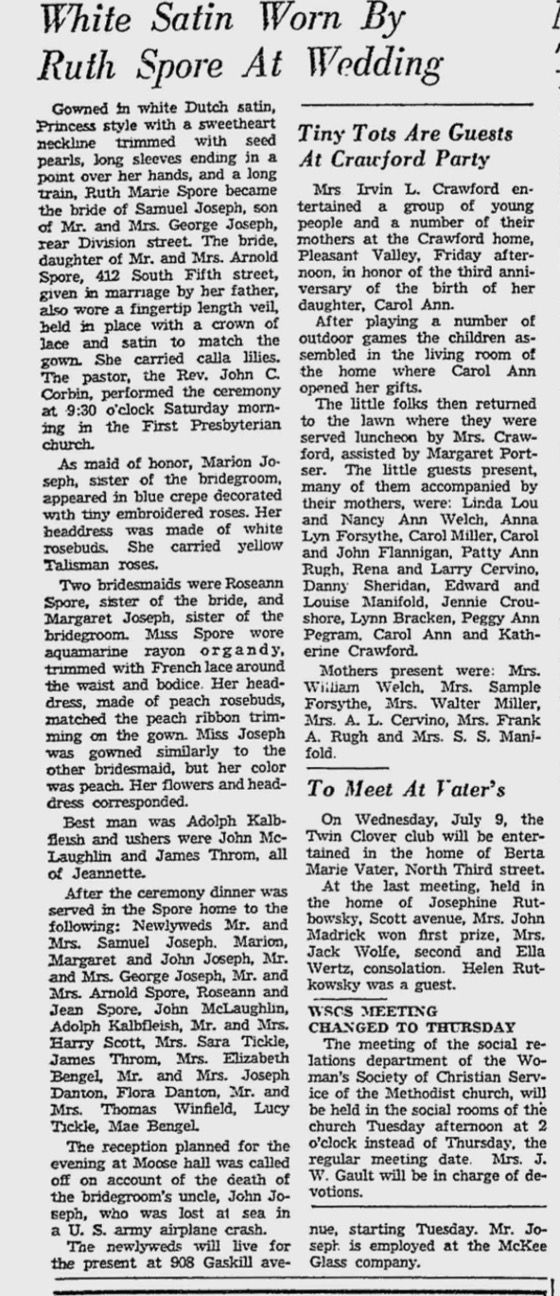 Being 100 years old my grandfather has faced countless challenges. This is just an example of two of them.
I have always believed that our ancestors form the foundation of who we are. But the single events that they experience create who THEY are. As we live this life, we are forming not only our foundations but those of future generations. Genealogy work gives us that unique understanding that general history can only scratch the surface of.
During this pandemic, I have been researching, but not writing. Sharing the stories are so important. My thanks to my Pap for his always present inspiration and to Amy Johnson Crow for providing us the prompts to tell our stories via the #52ancestor challenge.
Happy New Year to all, and best wishes as you build yours and the futures foundations.