155 years ago while marching with his unit, the 3rd Potomac Home Brigade, Co A, my 3x great grandfather, Noble W. Broadwater, collapsed and was taken to Camden General Hospital in Baltimore, were he died a short time later.
Noble was born in Loudoun Virginia, to Guy and Mary (Piles) Broadwater. He came with his family to Western Maryland as a child. It was there that he married Jane Warnick on 13 Oct 1833. Together they raised a family. He was a blacksmith by trade.
By the beginning of the Civil War, Noble and Jane had 11 children, and 5 grandchildren.
Joseph Broadwater, unmarried at age 22 was Noble and Jane's oldest son. He enlisted early on July 20 1861, as a private in the company K, 4th regiment of West Virginia. At this point in the war, no union units were yet formed in western Maryland, so he travel to west to Virginia to enlist. He was joined by his brother in law, Solomon Brooks. Solomon was the husband of Mary Ellen, Noble and Jane's oldest daughter. Mary Ellen and Solomon had 4 young children at the time.
Thornton Gilpin Broadwater was the second son of Noble and Jane. He enlisted in August 1861, when the first units in Western Maryland were formed. He was a member of the 2nd Maryland Infantry. he was unmarried at the time.
On September 23 1861, just 4 months after the beginning fo the civil war and several months after his sons enlisted, 56 year old Noble W. Broadwater enlisted in the union army. He is described as 5'9 with dark eyes, dark hair, and a dark complexion. He's occupation is a blacksmith.
How is is NOT described is as a husband, father, and grandfather. At Noble's age, he was not required to fight. He could have stayed home.
We can only guess at Noble's reasons, but regardless what they were, he enlisted. He joined Co A 3rd Regiment, Potomac Home Brigade. He committed to 3 years. At least 3 of his cousins served with him, as well as the spouse of his cousin, named Tilghman Wilburn, who would later be murdered after the war allegedly for his scouting and spying.
The Potomac home brigade served as guards to the upper Potomac railroad lines. They were part of several skirmishes in 1862 and was part of the siege of Harpers Ferry in September 1862. Noble along with 12,000 other union soldiers were captured. It was the largest surrender of federal forces during the war. Some of the confederate soldiers attacking Harpers Ferry were from Loudoun County, Virginia. The county were Noble was born.
The regiment was eventually paroled by the confederates and were ordered to protect Baltimore, they spent the remaining part of the war around Baltimore and Annapolis areas, frequently marching and skirmishing.
Meanwhile, on July 4 1863, Jospeh Broadwater died in Memphis, Tennessee at a field hospital. He was suffering from tuberculosis (listed as Phthisis in army records) and diarheaa.
Noble must have been aware by 1864 that the war had cost him a son. Despite this, or maybe because of this, a day after being discharged, on February 28 1864, he reenlisted. At the same time another son in law Jacob Foutz, married to Noble and Jane's second daughter Nancy, enlisted and joined him in Co A of the Potomac Home Brigade.
Jane Warnick Broadwater at this time was 48 years old. She had four grown daughters, one son in his grave, and husband and second son fighting a war, at home she had 4 more children ages 12 to 6.
Early in August 1864, while marching in Maryland Heights, on the Maryland side of the Potomac across from Harpers Ferry, Noble "fell to the ground apparently exhausted with heat." On August 10, 1864 he was admitted from the field to the general hospital at Sandy Hook, Md. Two days later, he was taken to Camden Street General Hospital, in Baltimore. A certificate from the Surgeon Generals office stated that Noble Broadwater died on August 15, 1864 of "debilitas"
Below is partial testimony from his fellow soliders, in support of Jane's pension request.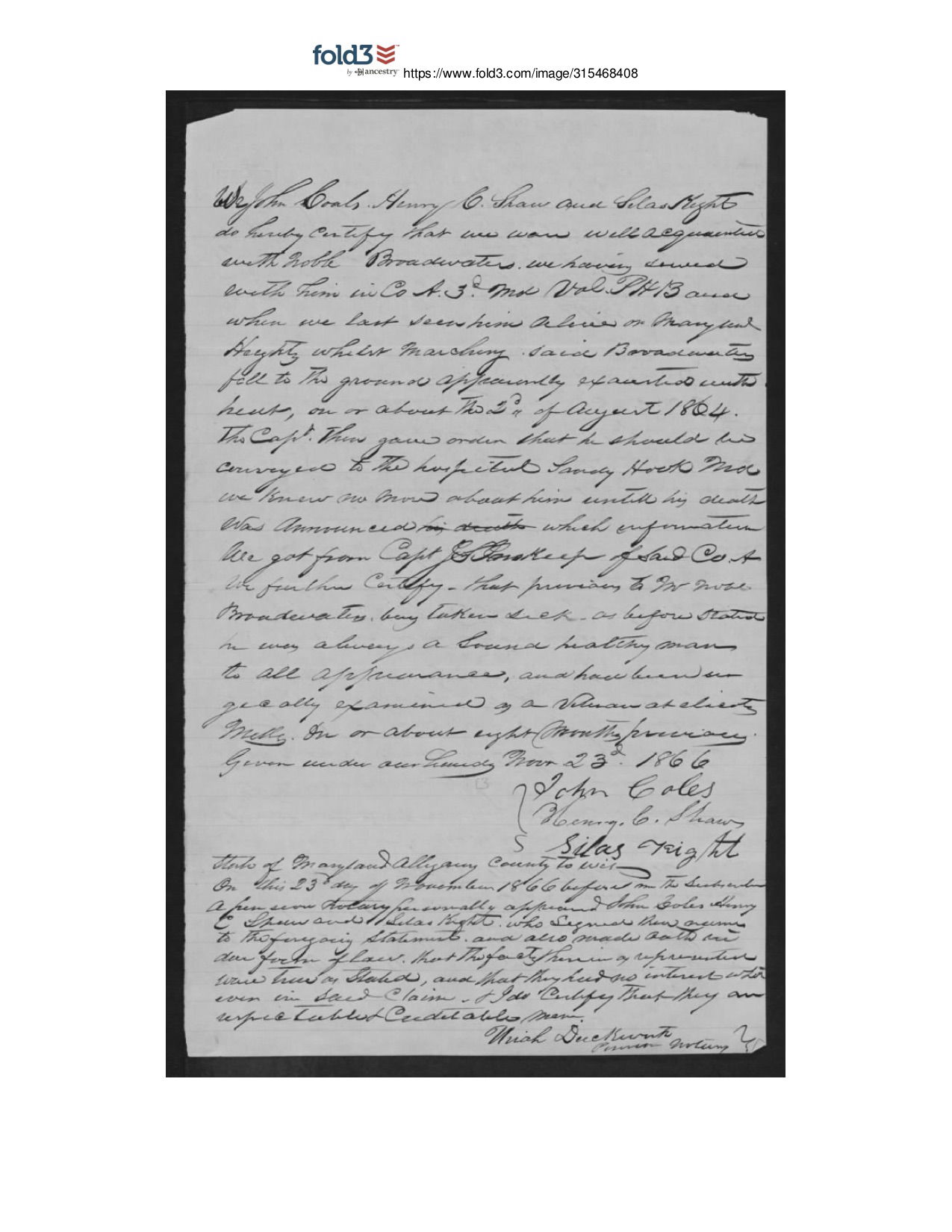 Noble means having or showing fine personal qualities or high moral principles and ideals. We can not hope to know the inner thoughts of our ancestors and the times in which they lived, nor the reason's for their actions. What we can do is recognize and remember the sacrifices, not only of the soldiers, but that of their entire families. How much of that shapes who we are today?