My grandmother had one single photograph of her father. I estimate that it was taken in 1918, when he enrolled in the United States Navy.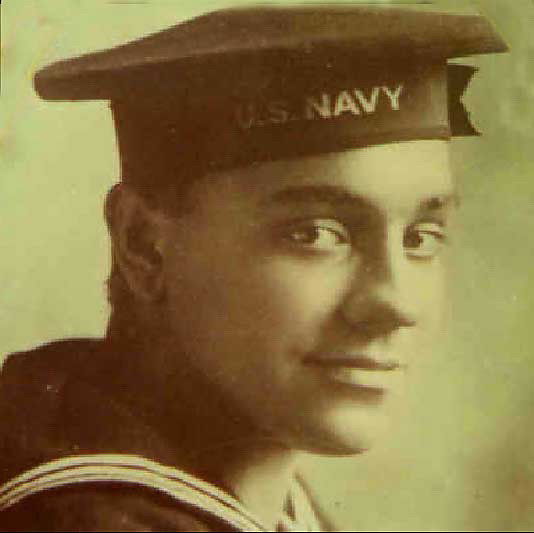 What can you see in a photo? What can it tell us? I believe a lot, however as good as a picture may be, it remains a one-dimensional image. Unable to read someone's soul.
Mental health care is an import issues today and although we have made strides, we still have far to go.
At the beginning of the 20th century, mental health was only starting to be understood. It carried with it a stigma, which made worse the isolation of those who suffered from it.
John was one of them. John Besner was my great grandfather. He committed suicide October 2, 1928 at the age of 28, in Ogdensburg, New York. He left behind his father, three brothers and his 6-year-old daughter, Grace. Grace was my grandmother.
We knew very little of John. My grandmother was orphaned at age 6 and was raised by her uncle Alza and his wife Georgeann. At the age of 16, she had a world wind romance with my red headed Irish grandfather, who married her after 3 weeks, and put her on a train to Braddock, Pennsylvania, to be in the care of his mother and sister, while he went off to Europe to fight a world war. My father was in his 30s when he learned of John's suicide, and even then, details were not provided.
My grandmother did not talk much of her childhood, and when she did it was random names without much context, or the joke about how she could still talk French if she had enough to drink. Later, I would put things together based on those names. She opened up more as she got older, but sadly we didn't get much to time, she suffered from Alzheimer's and her memory faded. She died in 2007. Once, when I pressed her about John, she told me a story about the night after his death. She was asleep and her Uncle woke her in the middle of the night. They went to the church and were let in a back door by the priest. There in a room was the coffin of her father. She was not sure how it got there as it had been at the house, as was the custom at the time. She re-accounted that they remained there for what seemed like a long time and prayed with the priest. She said they had mass just a small group of them. Then they simply went home. John was buried the next day, but without public mass.
In my modern naivety, I asked why. She told me he committed a grave sin and could not have mass or be buried with the church blessing. The priest had done what he could, out of respect for the family. It was then I realized the shame and embarrassment this caused her. I understood it, but it made me angry. Was that how he saw himself, was that moment at the church just the bookend for the last few years of depression and grief. Was it the shame that pushed him to do what he did. The man had fought a world war and lost a young wife only a few years into their marriage. Did anyone help him, did anyone reach out to him, did anyone work to make him feel that he wasn't alone? I had to remind myself it was a different time. A different culture, and I had very few details.
Johns life was short, but difficult. His own mother died when he was about nine. He was the youngest of the four surviving brothers. His father remarried shortly after his mother's death, but his step mother died only 3 years later. At 18, he enlisted in the Navy and fought in first world war overseas.
When he returned, he married Louise Gauthier on September 1, 1921. A year later they welcomed Grace. The following year, Louise became ill and died. John's brother, Alza, and his father Moses, did what they could for the young widower and his young daughter.
That's all we knew for a long time...
It was much later that I stumbled on details about John's death.
One night, several years after my grandmother had passed. I discovered the newspaper archives of northern New York, now called http://nyshistoricnewspapers.org.
I search Besner and some variations. Before I knew it, I was smacked in the face with the details of my great grandfather's suicide. I poured into the shockingly detailed news articles, and felt transported through time.
Johns last day was a Tuesday, Oct 2, 1928. He went to work as he normally did. He returned home about 6p. He shared his brother Alza's home, along with his father Moses, Alza's wife Georgeann, Grace and Georgeann's niece and nephew Ruthie, and William.
He spoke to his brother and played with Grace. He then went upstairs. It was there he wrote a few notes. Two were left in his room. One was to Grace, telling her goodbye. The note was written on the back of a picture of Grace. A second one was instructions to his family.
"the bedroom suite, table and trunk are to be kept for Grace until she comes of age. She cannot forget, Goodbye Grace, Dad"
The words she cannot forget were lined out.
He left his house at 507 Covington street about 8p, he spoke to a friend, Fred Rapin, at the corner of Covington and Adams.
At some point between then and his suicide, he left a note on the porch of his best friend, Leo Leroux.
"all the clothes that is in your care is yours, but Louise's watch, keep it for Grace. I got to say goodbye to the world"
He was last seen about 10:30pm near Socony filling station, near upper main street, where he had worked. Sometime after that, in the back of an empty lot near the station, he discharged one round of his loaded 32 caliber Smith and Wesson pistol into the ground. After being assured it was working, he raised it to his right temple and fired. He was instantly killed.
By the next morning, Alza was worried. His brother had not come home last night and there had been a report of a drowning in river. He called for the police. Officer Henry Lebeau responded. Fourteen-year-old Ruthie had just left for school, when she came running back to the house. "Uncle is lying over there." She led Office Lebeau to the lot near the services station where they found John.
As I read these article, I realized I was crying. Two of the newspaper articles, stated he had episodes of depression and that he had been despondent.
Whatever drove him to his sad end, he was in great pain. Great pain that couldn't be helped by his family, his faith, or his child.
One of my beliefs in being a student of genealogy is history's greatest lesson. If we don't not learn from the past, we are doomed to repeat it.
Mental health is important. Love and compassion are essential. If John lived today, I wonder if he could have been saved, obviously there is no way to know. But maybe his story can save another. Maybe it can not only document our family history, but it can remind someone they are not alone.
When I saw the #52ancestor prompt about a family photo, I thought of John and the haunting vision of a handsome young man, who had a life ahead of him, a look of hope, yet eyes that looked as though they expected tragedy. A man who felt happiness abandoned him.
Each of the stops he made that night, I wonder, were each of them a last effort to reach out? Was he looking for one small thing that might make him change his mind. Speaking to Fred, stopping on Leo's porch, wandering around main street....hard to know, but one gesture could have made a difference.
Today, we see faces of all our friends and family on social media. Most are happy and joyful. It is easy to scroll through. I wanted to use this week's #52ancestors prompt, not only to tell John's story, but to encourage all of us to be available to each other. Don't accept a photo for reality. Go beyond the surface. You can make a difference. Listen, care, and love.
And for those of you in pain, you are not alone! There is hope, help is available, please reach out.
Suicide prevention national is hotline 1-800-273-8255
We will not forget you John.