If you missed Part one please check it out here, before reading.
https://www.yourmomgenes.com/my-blog/margaret-ann-peters-joseph-part-1
At the end of part one, Margaret had just suffered the loss of her baby George. He was one of the twins she had just given birth to. Ironically, he had the same name as the twin brother she lost when she was just a toddler.
The 1920's and 1930's were challenging for most Americans. Margaret & George Joseph were no different. They struggled to make ends meet and raise their growing family.
I wonder if they purposely tried to control their family size, for it wasn't until 1931, when their next daughter RoseMary Joseph joined the family.
The 1940's would be a tumultuous decade for Margaret.
On June 22, 1941, Benjamin Adams, Margaret's eldest brother, died in Canandaigua, New York at a Veteran's hospital, where he had been a patient for over 2 years. The hospital in Canandaigua was a neuro-psychiatric hospital. Ben was a WW1 veteran with service overseas. It is very plausible that his service overseas rendered his physical and psychological ailments. I believe though, that Ben suffered from Huntingdon's disease which would manifest the same way. I am not yet in receipt of his death certificate; however, I am hopeful it will provide more clues.
My great grandmother did not have the gift of hindsight and most likely had no idea of the affliction that struck her family. It is impossible to know her thoughts on what happened to her brother. It is very possible she blamed his service.
Her brother in law, John Joseph had made a career out of the military joining the army in 1929.
Now, for Margaret, world war loomed over her for the second time in her life. This time, she had sons. Her brother in law and her boys had to be on her mind as the US tried hard to stay out of the fighting.
On, June 28th 1941, just 5 days after her brother's burial, her oldest son Samuel married his sweetheart Ruth Spore. An elaborate reception was planned, however the night before the wedding, the Joseph family received word that 35-year-old John Joseph was aboard an army bombing plane that nose-dived into the ocean near Supe, Peru and sank immediately.
Click here for article:
https://news.google.com/newspapers?nid=1129&dat=19410628&id=h5VRAAAAIBAJ&sjid=K2oDAAAAIBAJ&pg=5656,5924340&hl=en
The minister agreed to have the wedding service, but recommended the family have a quiet dinner instead, which is what they did. Mr. and Mrs. Arnold Spore, parents of the bride, hosted a dinner party that evening in their home. The Joseph's attended, as life must march on.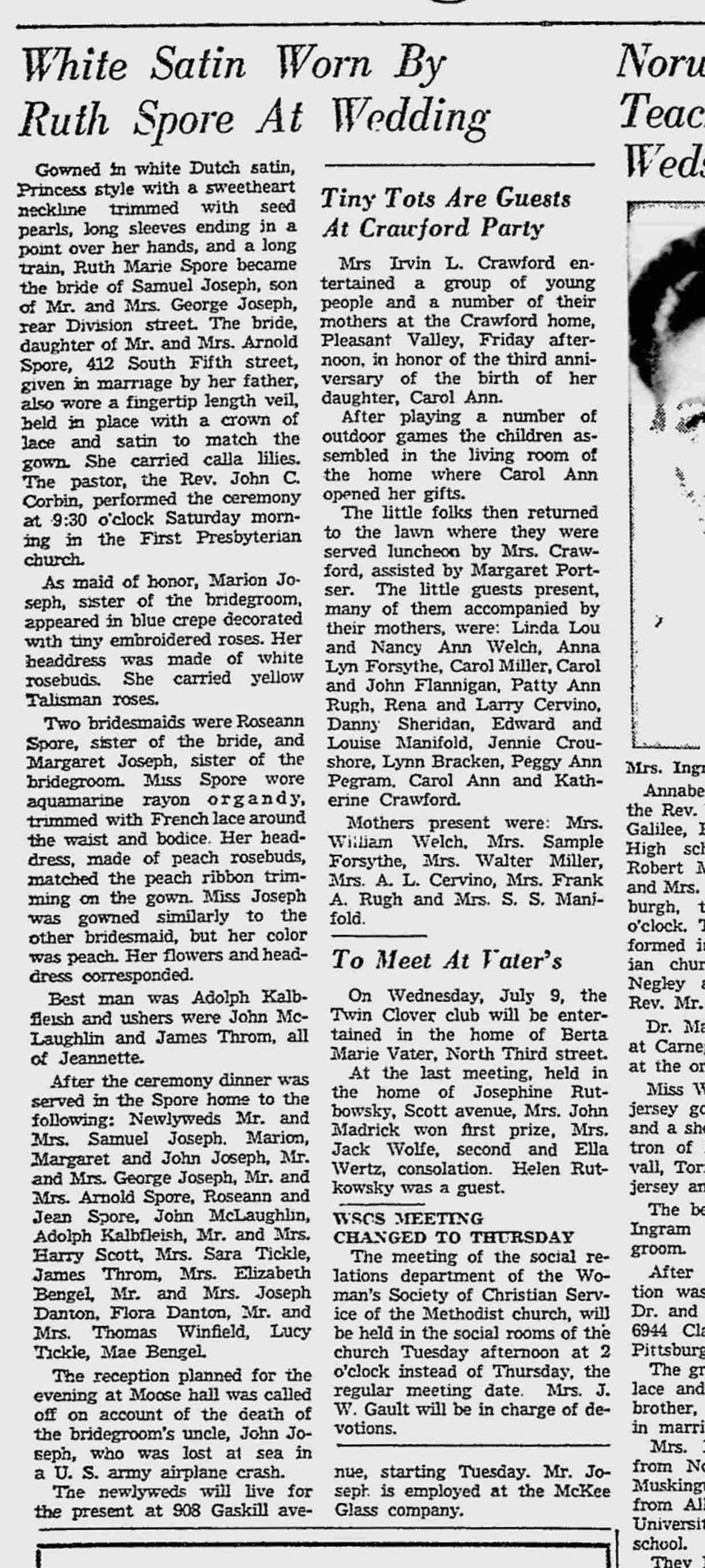 Description of Samuel Joseph and Ruth Spore's Wedding.
Remember, at this point, the United States was not participating in the war. It would not be until six months later, after the attack of Pearl Harbor, when he US would officially enter the war.
In 1942, the family would grow again. Allegedly, Margaret stated to family members, she thought she was going through the change of life. She was not though; she gave birth to David in December 1942. Just three month later in March of 1943, she would welcome her first grandchild, Barbara Ann Joseph.
Both of Margaret's older sons, Samuel and John would be drafted into service. Thankful both would survive the war.
In 1945, Margaret lost another brother, Solomon. It was Solomon's twin, George, that passed when they were younger. Solomon was only 43. His is the first death certificate to mention Huntingdon's Chorea. Again, I wish I knew if the family understood the full meaning of that diagnosis. It is possible they were not aware. Huntingdon's was only just being recognized in the later part of the 19th century, and Solomon like Benjamin before him had been institutionalized for several years.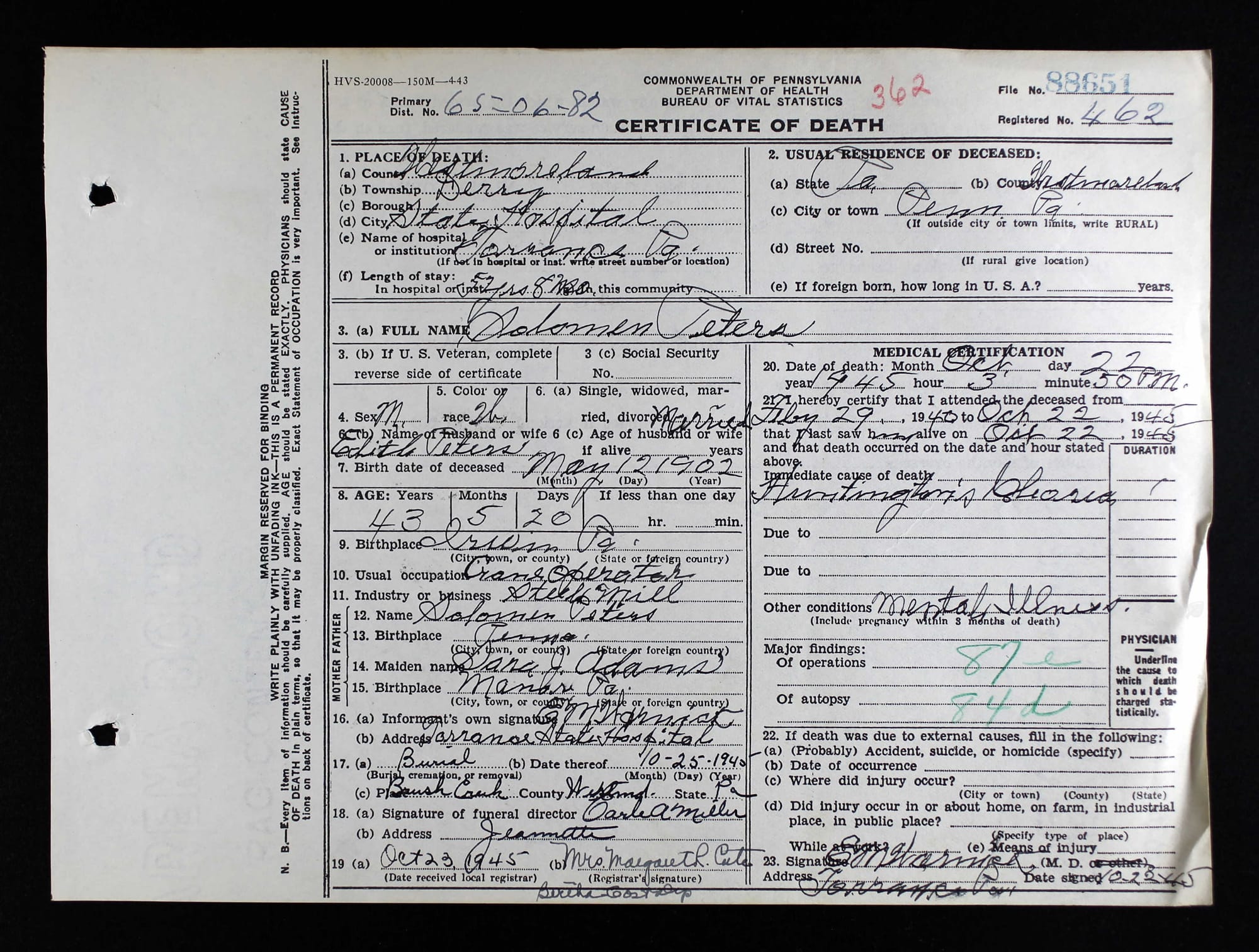 On March 10, 1948, Margaret suffered the loss of her mother. Sarah Jane Adams Peters had seen her family through much. Her lose must have been felt greatly. She left seven children, 26 grandchildren and 6 great grandchildren.
Sometime in the 1950's Margaret did something not many women did during this time. She got a job. She was working in the JH Millstein Company in Jeannette. JH Millstein was one of the many glass factories in Jeannette. Jeannette was known as the glass city. Millstein's made specialty glass candy containers.
In April 1953, Margaret got her hand caught in a drill press. She was admitted to the hospital with multiple fractures in her left arm and had to be stitched back up. This grandma could not let a little accident keep her down within a week she was recovering.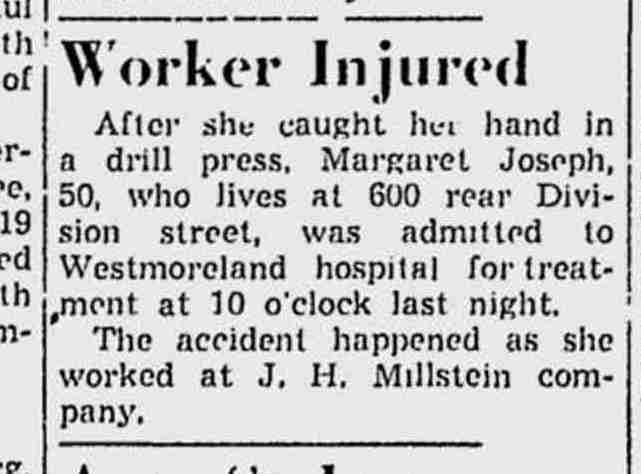 George Joseph retired around 1960. He and Margaret decide to move to rural Ligonier, Pennsylvania. It was there they bought the land and mobile home I loved to visit as a child.
In October of 1969, George and Margaret celebrated 50 years of marriage.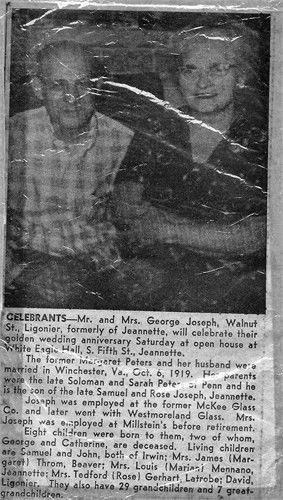 Almost two years later, George died suddenly, while working on his property. It was May 20, 1971. He had a sudden cardiac arrest.
As a widow, Margaret embraced what was the constant throughout her life, faith and family. She would gather her children, grandchildren and great grandchildren at family reunions every year.
My uncle, George Joseph, documents a fun tradition in his book, "A Genealogical Record of the Joseph and Peters Family"
Gramma Joseph especially enjoyed family reunions, when she could gather the whole family together. And what a family it was! After George´s death, the family would gather, nearly every year for a reunion, filling large picnic pavilions at Bushy Run Park, Twin Lakes Park, and similar venues. That, too, is where the family tradition of approving family marriages was continued from the days when permission to wed was granted by the family patriarch. Dutifully, the betrothed members of the family would introduce their fiancé to the family.
Each was asked why they wished to join the family, to which each was previously instructed to answer: 'I want to be a "munjo´ too´´ The votes were always unanimous.
Margaret left her large family with a legacy of love.
She died November 5, 1984 and as she insisted, her obituary read: she is survived by 6 children, 29 grandchildren and 41 great grandchildren.