I was blessed to know two of my great grandmothers. Today, we remember great grandma.
Great Grandma was Margaret Ann Peters Joseph. I would see her at family gatherings a few times a year, but my fondest memories were visiting her trailer in Ligonier, Pennsylvania.
She lived there, alone, after her husband George died. She outlived him by 13 years.
As we entered, we would each be smothered in hugs and kisses, while a variety of different names streamed from her mouth. This was an attempt to figure out which of her 6 living children, 29 grandchildren or 41 great grandchildren had come to visit.
It was challenging, not just because there were so many of us, but also because, she had lost much of her vision due to diabetes.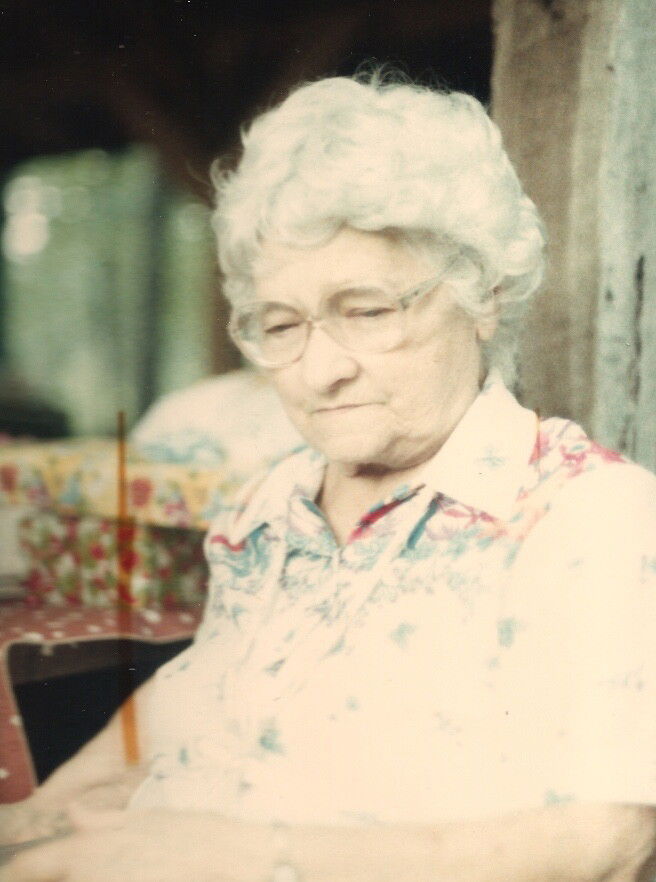 My 8-year-old self would sit on the couch and take it all in. I particularly remember a large cross-stitched hanging of the 10 commandments. As I read them to myself, over and over again, she would stand in her small kitchen and make treats for everyone. She asked if I wanted some Kool-Aid. Of course! My mom shot me a look, now Great Grandma would have to makes some, and she would not allow anyone to help. She pulled out the pitcher and the container; she used her finger to make sure she didn't fill the pitcher to full. As she stirred, she told us about having her pacemaker put in, and how neat it was. Of course, she declined any anesthesia because she wanted to watch them do it. My 8-year old self didn't know the word for it then, but my adult self does; she was badass.
Every Christmas she would prepare envelopes for her 41 great grandchildren. Inside the envelopes we found a single 2-dollar bill. A unique and rare treasure, as she was.
During 84 years of life, Margaret Ann Peters Joseph saw much history, had great faith, and was a rock for her family.
Margaret was born on August 16. Some records say 1901 and some say 1902. Based on her sibling's births, I am more likely to go with the 1901 date.
She was, at least, the 8th born child of Solomon and Sarah (Adams) Peters, but at the time of her birth, she had 4 living siblings. Benjamin was 10, Sarah Jane was 5 and twin boys, Solomon and George were 15m old. The family had a farm in Penn Borough, Westmoreland County, Pennsylvania.
I wish I knew more about her childhood. I imagine life on a farm with a large family was very busy. Sarah Jane, great grandma's mother, was pregnant very frequently. She gave birth to 12-13 children, including a set of twins and triplets. Only 8 of those children would grow to adult hood.
On August 18, 1905, Margaret lost one of her twin brothers George. He was 6 years old, Margaret had just turned 4. George died of Erysipelas. It is a bacterial infection of the skin and can attack the lymphatic system, often caused by a streptococcal infection.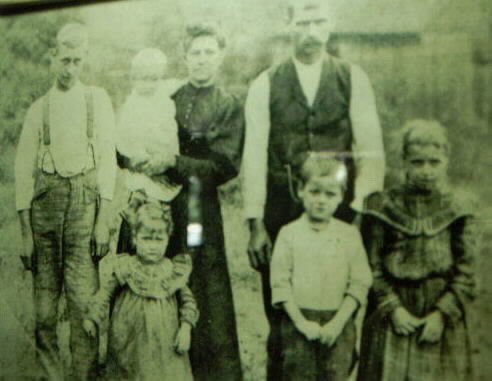 This photo was probably taken C.1905 shortly after George's death. Solomon, George's twin is in front of his father. Margaret stands in front of her mother. The space between them not doubt would have been where George would have been.
Through my genealogy studies, I have come to learn that Solomon Peters, Margaret's father, and several of his children suffered from a genetic disease called Huntingdon's. I discuss it in a previous blog here….
https://www.yourmomgenes.com/my-blog/huntingdon-s-disease
The disease has a 50% chance of effecting a suffers children.
I don't know if the family realized this as Huntingdon's disease. The disease was not fully understood until later in the 20th century.
Margaret was blessed with health, and her children and grandchildren did not have to suffer the disease. Three of her siblings were not so lucky, they suffered from symptoms, now understood to be Huntingdon's, and died in their 40's.
In 1917, the United States entered WW 1.
Benjamin Peters, Margaret's older brother, enlisted in the United States Army May 27 1918. He was discharged, April 4 1919. He was overseas August 23 1918 - March 20 1919.
Her paternal grandmother Martha Cresap Peters passed away on October 11, 1918.
I am not aware of how my great grandparents met, but it was around this time George Joseph and Margaret became a couple. Their families were quite different, George was the son of Syrian and Lebanese immigrants. He was raised in the orthodox catholic faith. I wonder if the families took any issue with the young couple.
Just 4 months after her older sister Sarah married Phillip Crammer, Margaret and George ran away to Wellsburg, Brooke County, West Virginia and were married on Oct 6, 1919 by a justice of the peace. Their first child, Catherine, was born just 5 months later on February 27, 1920.
The young couple moved in with George's parents, Samuel and Rose Joseph in Jeannette, Pennsylvania. George worked in the glass factory. The household was a crowded one. In December of 1919, Rose Joseph gave birth to twin boys, Richard and Thomas. George and Margaret's baby Catherine followed soon after. George's three brothers and two sisters were also living in the house.
The next few years would prove to be extremely challenging. On November 5, 1920, Catherine Joseph only 8 months old died. Her cause of death was marasmus, with a contributory factor of improper feeding. Marasmus is common in poverty and maternal malnutrition. This is heartbreaking. Margaret was also 5m pregnant with her next baby.
On March 28, 1921, Margaret gave birth to her second child, a son, named Samuel Joseph named after his grandfather.
Samuel Joseph is my grandfather, he celebrated his 98 birthday last year.
I wrote about it here.
https://www.yourmomgenes.com/my-blog/happy-98th-birthday-pap
By 1922 Margaret was pregnant again, but while pregnant she was struck a heavy blow.
On July 9, 1922, her father Solomon J. Peters suffering medically and financially took his own life.
That fall, Samuel & Rose's twins, Richard and Thomas, fell ill. Perhaps they were thinking of their granddaughter Catherine when both boys were admitted to Children's Hospital in Pittsburgh. They suffered from chronic intestinal indigestion and rickets. The most common cause of rickets is a lack of vitamin D. It can occur from exclusively breast feeding or certain genetic conditions. Most common cause of congenital rickets, is a maternal vitamin D deficiency. It can result in weakened bones, and often results in bowlegs. The twins died on Dec 25, 1922, and Dec 26, 1922. They had just turned 3.
By the mid 1920s, George and Margaret's family had grown. Samuel was joined by Marian in 1922, and Margaret Ann in 1924. The family had moved to their own home on Division Alley, in Jeannette.
In 1925, Margaret was pregnant again. On Feb 27, 1926, exactly 6 years after the birth of her first child, and just over 3 years of the deaths of her brothers in law, she gave birth to twins, named George and John. Exactly 1 month later without explanation baby George passed away.
I pause the narrative now, to explain. At 8 years-old, sitting on that couch in 1982, I knew none of this. It was though my research, I learned most of it. This was her style. She would not dwell on pain, not physical or emotional. She kept faith, found a positive and she moved forward.
Next time…Part two of Margaret Ann Peters Joseph.