Twenty-five is a relatively small number. It's the number of years my great grandmother, Louise Marie Gauthier Besner lived.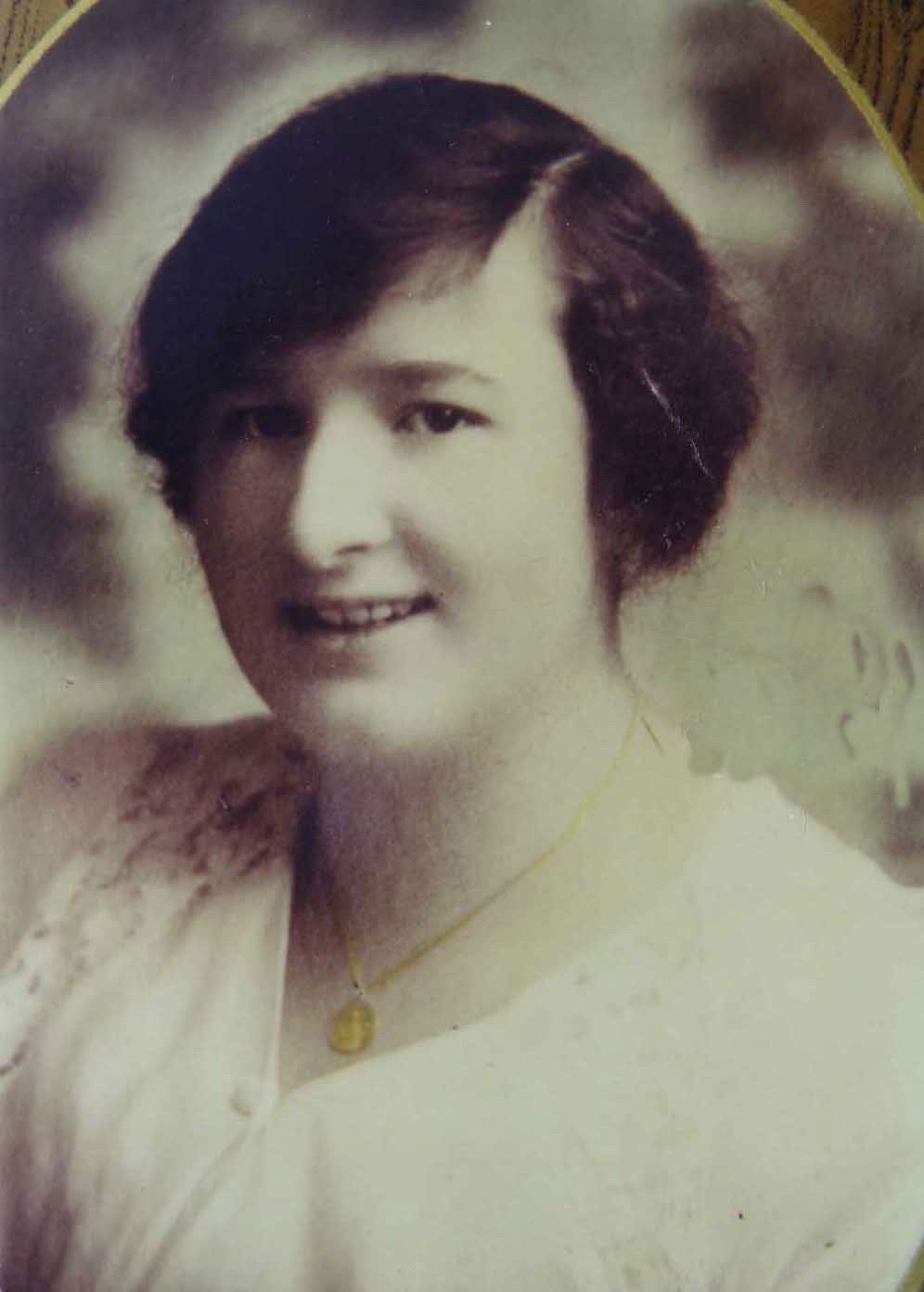 Louise Marie Gauthier Besner C.1920
It has taken me nearly that long to piece together the timeline of her life. There are still many gaps.
She was born in Ogdensburg, New York on February 23, 1898. Her parents Adolph Gauthier and Rosina Remi were immigrants from Canada. Adolph and Rosina appear to have been part of a large move to Ogdensburg, much of their extended family was residing there as early as the 1870's. It was in Ogdensburg that Adolphe and Rosina exchanged wedding vows on April 27, 1890.
Adolph was running a meat market on Ford street when Louise joined a growing family. The family included brothers Hector age 6, Emile 3, and sister Josephine 4. By 1900, another son Joseph Edmond was born.
As the century turned, so did the young family's fate. Josephine Gauthier died in 1901 at the age of 6. Rosina was pregnant again. She gave birth on January 14, 1902 and died the same day, she was 34 years old. Her little daughter named Rosina for her mother, died two weeks later. The young family lost their mother and two sisters, in a very short time.
Adolph re-married rather quickly to Rose Anna Blais, in 1902. Rose Anne and Adolphe had several more children. Edward, Arthur, Paul, Florida and Grace.
In 1905, the mysteries begin to appear. The 1905 New York State Census has Mary Louise Gokey living in the household of her aunt and uncle on Ford Street, Mr. and Mrs. Paul Premo. Melina (Minnie) Ramie Premo was Rosina Ramie Gauthier's older sister. Her husband Paul Premo was a fireman in Ogdensburg. The family consist of the couple, their 22-year-old daughter Mamie. Melina's mother Nora Ramey (sic), also known as Laura, or Aurelia, and boarder, 24-year-old Henry Doe. Henry was actually another nephew of Melina's, the son of her sister Cornelia, who was also deceased.
It ALSO lists her in her fathers household, with her sibling and step mother. That household consist of Adolph, Roseanna, Hector, Emil , Marie L. Edmond, and Edward.
The 1910 census once again, lists Mary Louise Gauthier twice. Once in the household of her father, step mother and siblings on Green Street in Ogdensburg, and again with her aunt and uncle. The household consist of Melina, Paul, their 26-year-old daughter Mamie, Louise and Laura Ramie. Louise's 83-year-old maternal grandmother. (In the 1905 state census she was listed as Nora)
Sadly all i can do is speculate about the family situation. Did Louise not get along with her new stepmother? Did it have anything to do with the fact she was the only surviving daughter of Rosina? There is no evidence of anything. The facts only say that 1910 was the last time she was in her father's household.
On December 12, 1912 Melina Ramie Premo dies. I can only imagine how the loss of another close female affected young Louise.
In 1913, Adolphe decided to move his large family back to Canada. It is not entirely clear to me why he made this decision. All indications were that he had a successful butcher shop. Some sources cite the increasing hostility toward immigrants at this time. In any case, the move was not to include the entire Gauthier family.
Hector, Louise's oldest brother married earlier that year and stayed in New York with his new wife Aroura Gagnon. It appears Louise stayed as well and remained with her uncle Paul and her cousin Mamie and grandmother. I have no reason to think there was any ill will between Louise and her father or her stepmother. It appears she made at least one visit to the family in Canada in 1917. I can't imagine any teenager excited to leave the only town and county she had ever known, but I can only speculate. What is clear, she was firmly staying in Ogdensburg.
Paul Premo remarried on Sept 6, 1914 to Hermina Fournier. She was a widow of Joseph Sovie, and brought 6 children to the marriage. Mrs. Sovie was the Premo family's next-door neighbor on Green street in 1910. Following the marriage, Louise was part of a large family again, this would not be sustained.
January 1917 Hermina Fournier Sovie Premo was operated on at the city hospital to remove a tumor. She had been ill for some time. She did not make it and passed away on January 11. She left her husband, 6 children, 1 stepdaughter and Louise. That same year, America entered the world war.
The Spanish Flu took hold of the United States in the later part of 1918. Paul, Louise and Mamie all took ill. Mamie died Oct 27, 1918. Paul and Louise recovered. Shortly after the war was over.
Louise rode the firetruck with Paul, her best friends and her cousins in the Armistead Parade in 1918. The original photo lists it as a parade in 1917, however Jacqueline LeRoux Sears sent a letter to the paper identifying the parade and the riders.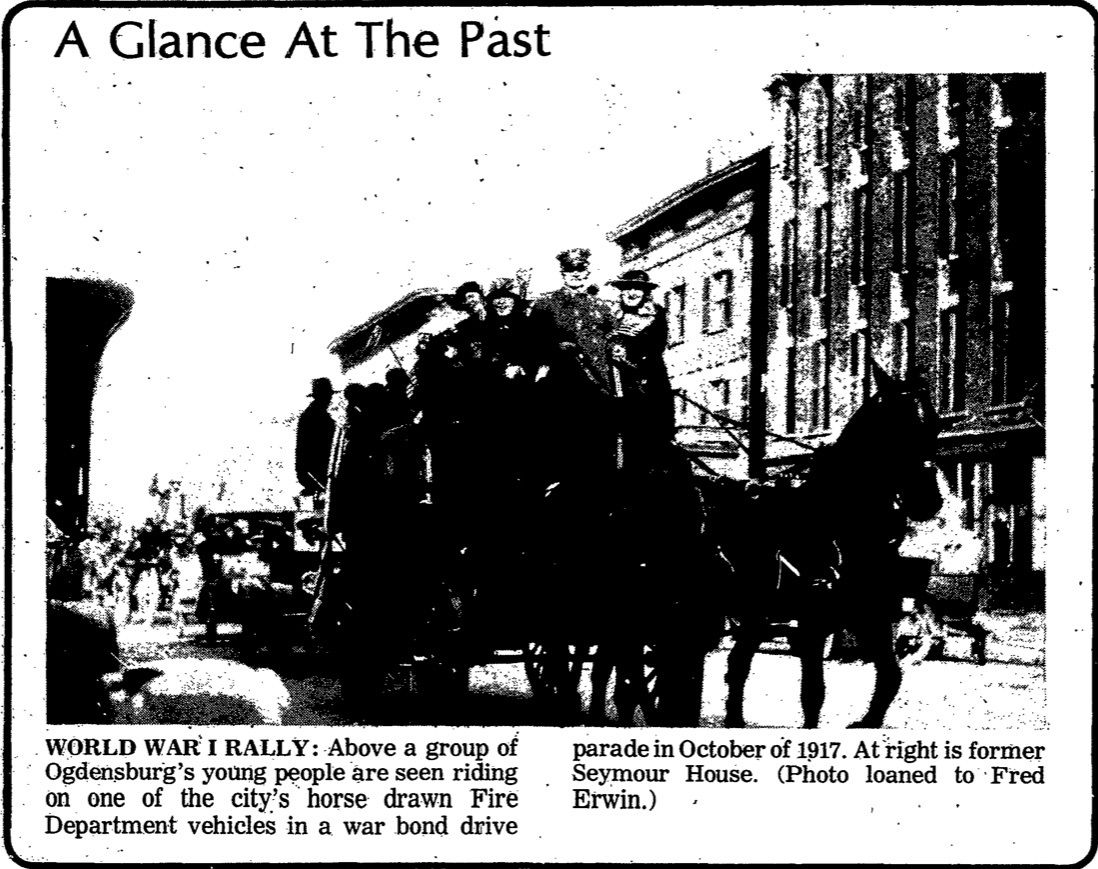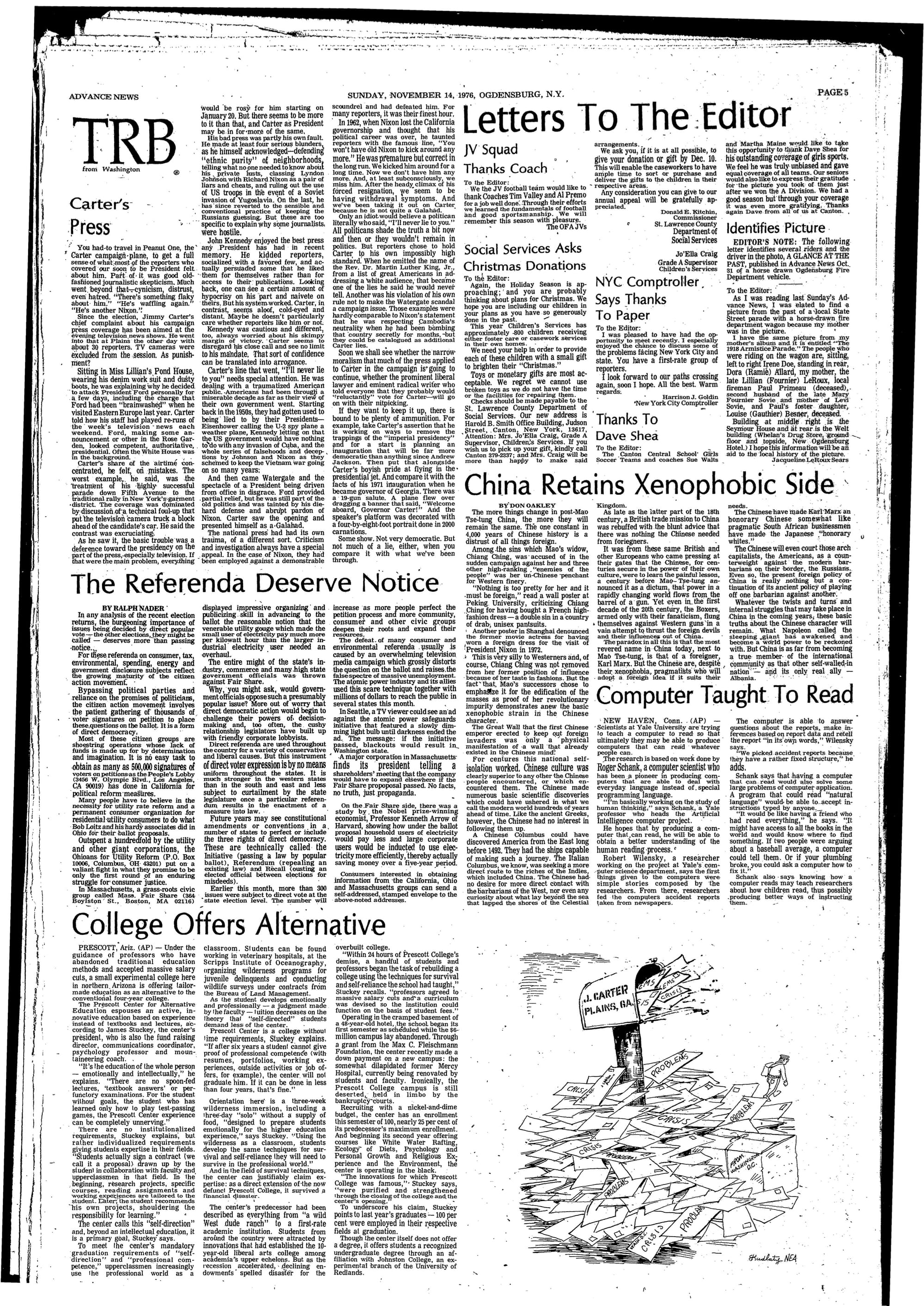 On January 24 1920, Louise lost the one woman who seemed to have been a constant in her young life. Her 91-year-old grandmother Aurelia (Laura) Levac Ramie. Paul and Louise were living in the household of Hugh and Margaret Sawyer in 1920, she is working as a wrapper at the silk mill. I have not been able to identify if the Sawyers are related to either Paul or Louise.
LOVE?
I have no knowledge of the courtship of my great grandparents. John Besner joined the Navy, Nov 11, 1918, just before his 18th birthday. I do not know if the couple were acquainted before he left for service, or if they communicated while he was gone.
He was released from active duty April 23 1919 and served in the reserves until 1921. In 1920, he is living with his father Moses Besner and his brother Alza on Covington Street. He is working as a plumber.
On September 1, 1921, the couple got married in Notre Dame Church with their best friends, Leo and Lillian Leroux. attending them. Lillian Fournier Leroux's granddaughter Cindy Sears Miller sent me this wonderful clipping of the event. Lilian preserved in her scrapbook.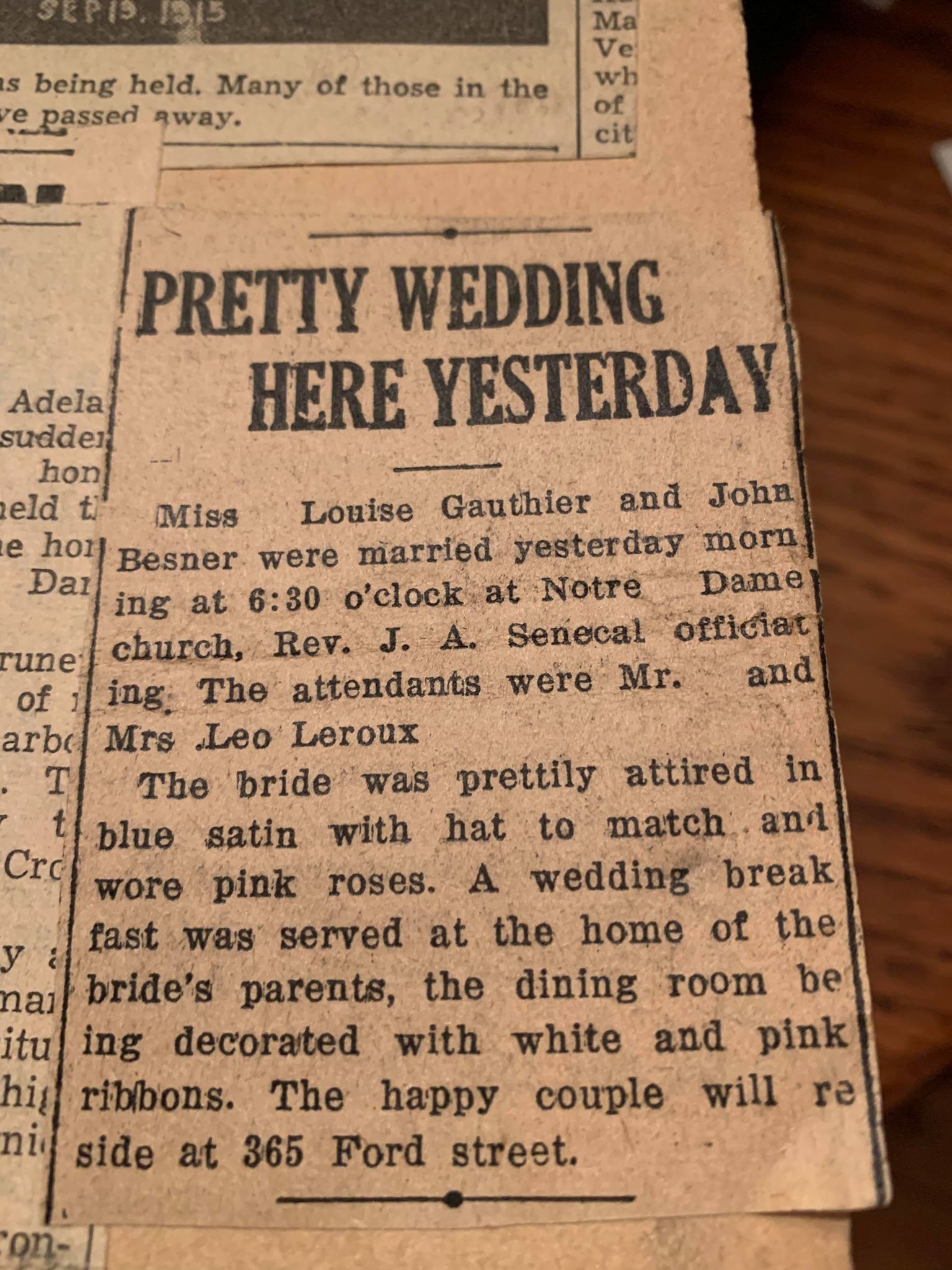 More mystery here, as Adolph and RoseAnne were living in Montreal at this time. Are they the "brides parents"?
Just nine months later, August 28, 1922 my grandmother Grace Helen Besner was born.
This is the only picture; I have of my grandmother and her mother together.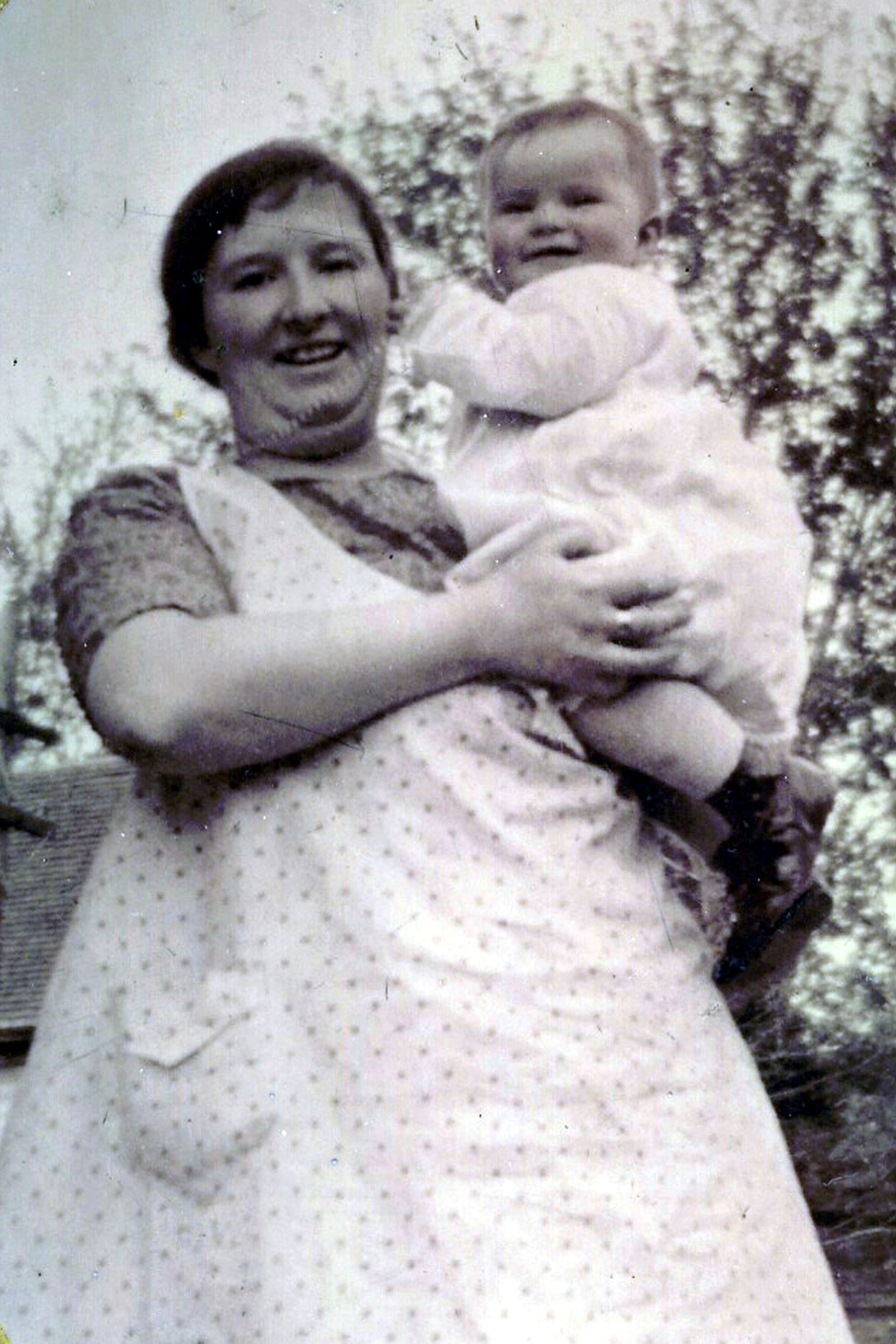 Lousie Marie Gauthier Besner and her daughter Grace c1923
A short year later, Louise had "acute gastroenteritis" and "collapse of the heart". She died just short of Grace's first birthday on August 5, 1923. She was 25. She was laid to rest in Notre Dame Cemetery in Ogdensburg.
As a nurse, I wonder if her heart was damaged from the Spanish flu and when she became ill again, she suffered heart failure.
John, 25 years old, and a war vet, was left to care for his young daughter. He moved back into his brother Alza's house where they lived with his father Moses and Alza's wife Georgeann.
John however was not up for the task. He took his own life on October 2, 1928. His story is outlines on my blog from on February 17, 2019.
John Besner...one photo and short life.: https://www.yourmomgenes.com/my-blog/john-besnerone-photo-and-short-life
Uncle Alza and Aunt GeorgeAnn raised Grace along with a niece and nephew of Georgeann's, Ruth and William Denny. Alza and Georgeann Besner never had children of their own, but they raised three.
My grandmother talked very little of her family in Ogdensburg. She left there in 1942 after marrying my grandfather after a 3 week courtship. He sailed off to Europe and she got on a train to Pittsburgh to live with his very large Irish family.
Thankfully, through research we have been able to document and learn a little of the short lives of John and Louise. I think they would be pleased with their legacy.